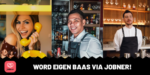 Website Jobner
Do you like to be in control? Do you want to decide where, when and with whom you work? Would you like to gain work experience within different companies and/or various industries? And do you want to earn (much) more than minimum wage?
Start freelancing via Jobner! Jobner is an online freelance platform aiming to connect the coolest businesses with young, enthusiastic freelancers. With our easy-to-use app, you can respond quickly and easily to open shifts and immediately declare your hours after work.
With a wide range of jobs in – among others – hospitality, retail, logistics, and field marketing, you can find the job that suits you best!
Want to try it out first? No problem! The first three times, you can try working as a freelancer without VAT ID. If you like it (which we expect😏), you can request your VAT ID which will arrive at your doorstep within a few days.
This is you:
Flexible and enterprising
Work hard, play hard is your favourite motto
Responsible (because freelancing also involves some important responsibilities)
MBO, HBO, or WO
18+ or with consent from your parents
This is what we/the clients offer:
A broad range of cool jobs
Hourly rates well above minimum wage (average of €16.- p/h)
Possibility to gain a lot and various work experience
Jobs that you can easily combine with your studies
Possibility to get paid within 3 working days
Being a part of the coolest freelance community!
Excited? Download the app and get started. Any questions? Check our helpdesk for FAQs or send us a message on +3185 00 43 220.
Together, we Jobner.